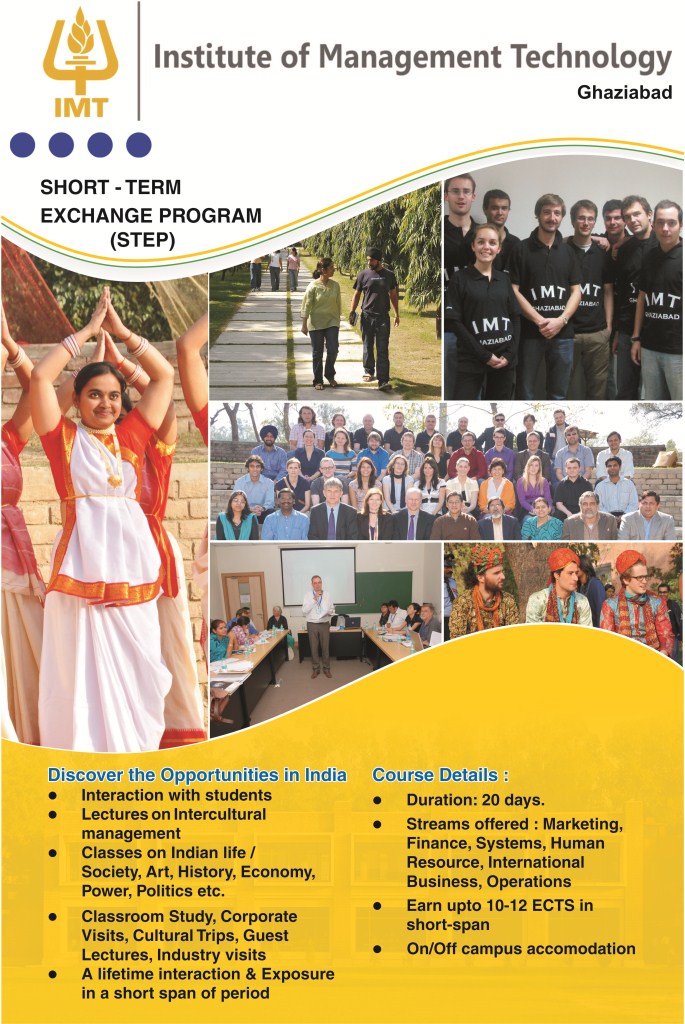 Greetings from Institute of Management Technology, Ghaziabad, India!
Consistently ranked amongst the top 10 Indian b-schools, the Institute of Management Technology, Ghaziabad has been a pioneer in Management Education for over 30 years in India. Having recently conducted reputable events such as the Erasmus Mundus Consortium International Summit and joint internship with the Centre for Research and Technology Innovation (CRTI) at Kellogg School of Management, IMT is also considered to be the thought leader in international collaborations with its vast offering of diverse international programs along with prestigious scholarships for our students.
It is our pleasure to introduce you to our Winter Program at IMT Ghaziabad to be held from 15 November - 5 December, 2011 in Ghaziabad, India.
As an alternative to term abroad programs, our Winter Program gives an opportunity to students to visit India and understand the emerging socio-economic trends. This 20-day program is designed to offer complete exposure to the Indian business practices through classroom learning, industry visits, guest lectures and cultural trips.
The program provides a platform for students to interact with their peers from across the globe. They would not only gain an insight into the working culture in various Indian industries, but also learn about the demographic dynamics such as our history, economics, arts, political scenario, popular culture and much more.
Furthermore, a 2 day cultural trip in Northern India would be embarked upon to showcase the beauty, magnificence as well as subtlety of our country.
The Winter Program is open for students from all disciplines at undergraduate as well as graduate level. It would require them to study 10 courses of duration 8 hours each.
The registration fee is given as follows:
| | | |
| --- | --- | --- |
| Registration type | Early Bird Registration until 15th September,2011 | Regular Registration until 30th October, 2011 |
| Type I* | Rs. 75,000 | Rs. 90,000 |
| Type II** | Rs. 100,000 | Rs. 120,000 |
*Type I includes all of the following
.         Tuition fees
.         Study material
.         Industry visits
.         Cultural trip to northern India
.         Complementary pickup and drop facility
.         Complimentary usage of local transport
.         Access to library, computer lab and sports facilities
.         Farewell party
**Type II: In addition to the facilities in Type I, this program also provides:
.         Accommodation
.         Food (Breakfast, lunch, snacks, dinner)
For more information on the program, please find the enclosed brochure or contact us at irc@imt.edu
Looking forward to your response.
Thanks & Regards
Jayanthi Ranjan, Ph.D
Professor - Information Management & Systems
Chairperson - International Relations
Institute of Management Technology
Hapur Road, Raj Nagar,
Ghaziabad - 201001
Uttar Pradesh, India
Landline: +91 120 3002 219 (Direct)
Fax : +91 120 2827 895
Hand Phone: +91 98114 43110
E-mail: jranjan@imt.edu